K SOFT offers balanced translations in terms of speed, quality and price.
After translation by our professional staff, a dual quality control system follows:



Dual Quality Control
Proofreading by a skilled proofreader
Final check by a senior member of staff
K SOFT delivers our translation service with thorough detail and quality.
We have earned a good reputation from our clients in various areas of business thanks to our quality translation service and comprehensive & solid technical capability to support a range of services, ranging from DTP to localization, as well as our accurate project management to meet clients' needs.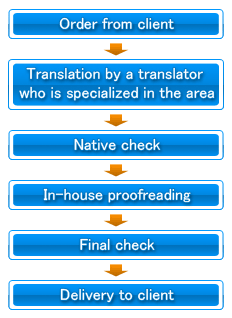 K SOFT values integrating terms in translations to retain further quality.
There are certain kinds of documents that contain a number of identical or similar words. Translating such documents can be time-consuming and confusing for a translator in terms of consistency. In order to resolve such issues and ensure integrity, K SOFT utilizes CAT (Computer Associated Translation Tool) tools, such as Trados and SDLX (translation memory).
A translation memory is a translation assistance system, which can store past translations in a database. It effectively searches for words/sentences from the database that are also contained in your current translation, and the translator can utilize past translations for the current work. CAT tools are suitable for documents (manuals, reports etc.) that are regularly updated or contain a number of identical or similar phrases. Trados and SDLX can assist in the three key business factors - cost, time and quality.